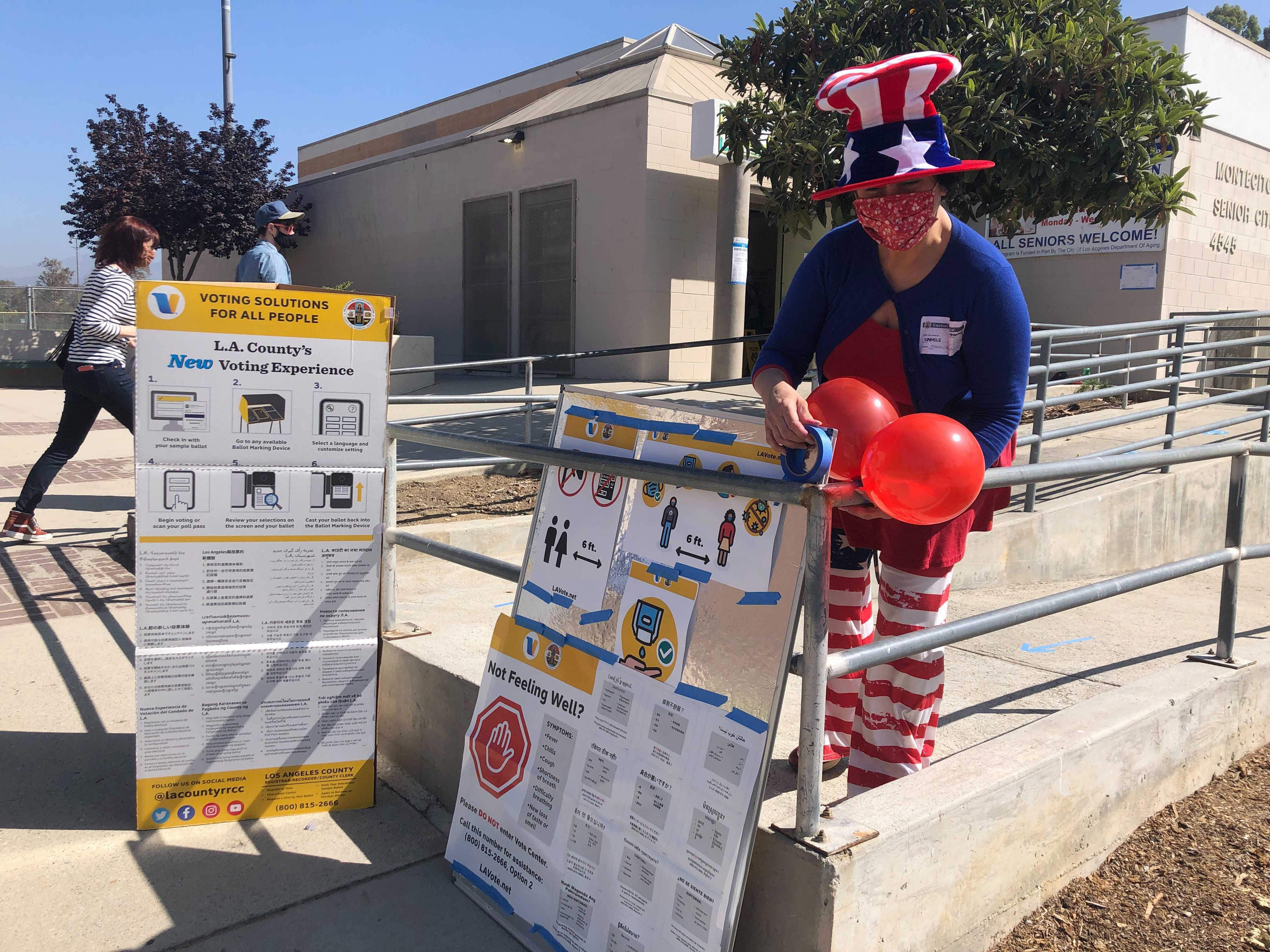 California voters headed to the polls Tuesday to cast final ballots in an election focused on whether Democratic Gov. Gavin Newsom should keep his job.
Voters were asked to answer whether Newsom should stay in his post and if he doesn't, who should replace him. Dozens of candidates, most of them Republicans, are running for the seat.
Many Californians voted in recent weeks by dropping off their ballots at designated boxes or by mail. Others chose to cast their ballots at vote centers on Tuesday, the last day to do so.
Here are some of their stories:
-—
Erica Taylor, 47, works at San Francisco's Department of Public Health and said she voted against the recall, which she found to be a waste of money.
She said she supports Newsom and likes how he has handled the pandemic.
"At the end of the day politicians are humans. They are held up on this high pedestal, but underneath all of that we're all humans and make mistakes," she said.
A native San Franciscan, Taylor said she has supported Newsom since he began his political career in the city.
"I've worked with this man here at the Bill Graham (Civic Auditorium) doing Project Homeless Connect, so he is definitely a person who gets out in his community," she said.
-—
Maricela Ruiz, 43, is a Democrat who voted against the recall. In case the recall effort were to succeed, Ruiz said she voted for cannabis consultant Jacqueline McGowan as Newsom's replacement.
"I want Democrats to continue in California," the Los Angeles caregiver said outside a polling place at the Montecito Heights Senior Citizen Center.
Ruiz said her top concern is homelessness, but she believes Newsom is "trying his best to clean up the streets."
She is open to the idea of another Democrat challenging Newsom in 2022 to get fresh ideas.
She said she has heard conspiracy theories about the election's integrity but does not believe them. "It's very silly," she said.
-—
Bradley Pierce, 21, voted against recalling Newsom at a high school in San Diego in a diverse neighborhood with a large refugee population.
"I was unnerved by the chance of somebody who supports a more conservative agenda becoming governor," said Pierce, who is studying education at San Diego State University.
He said he did not check any box for a candidate to replace Newsom in case he is in fact recalled. He said the Democrats seeking to replace him all have little experience.
Pierce said he believes Newsom has handled the pandemic well. He also likes what Newsom has promised to do about homelessness and improving public education in the state.
-—
Joe Cusumano, 77, who is a registered Democrat but has voted Republican in recent years, wants a new governor.
The San Diego barber said his feelings toward Newsom are the same as those toward President Joe Biden. "They don't know how to delegate power," he said. "Newsom still has a lot to learn."
Cusumano used to cut the hair of former San Diego Mayor Kevin Faulconer, who he described as "a San Diego man, someone who is …read more
Source:: News Headlines
(Visited 1 times, 1 visits today)
News