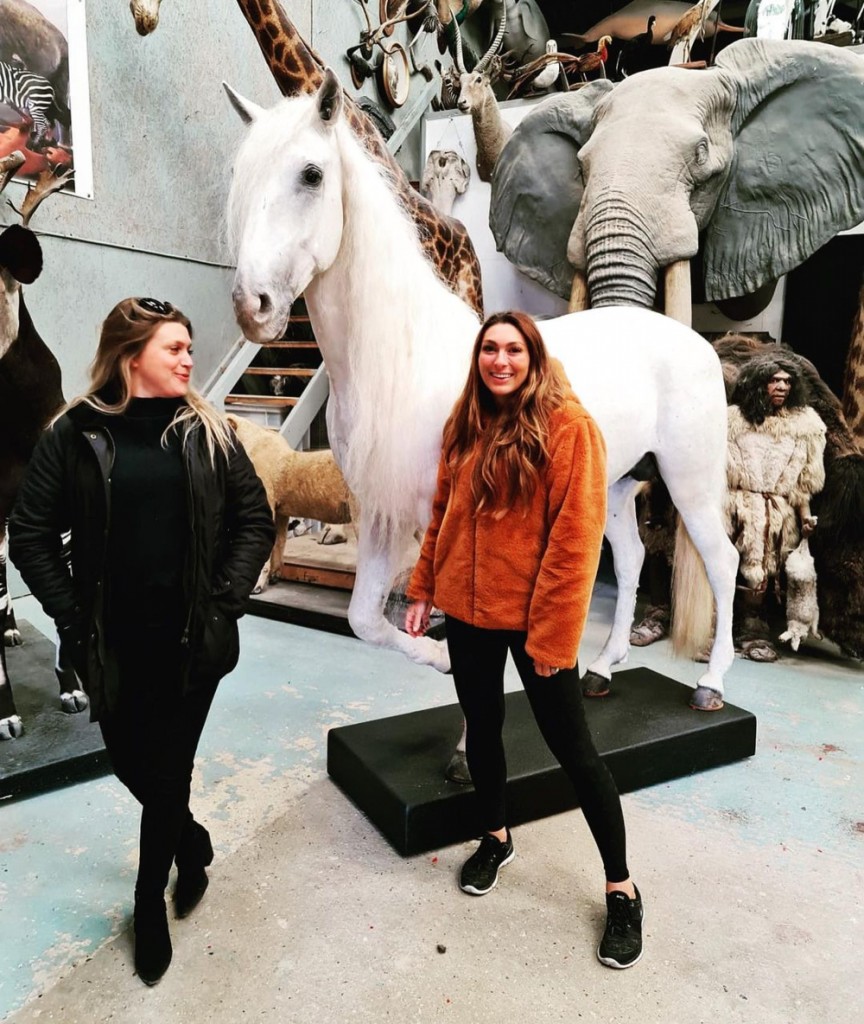 This post is going to take some of you on a journey. I have no idea what kind of journey this will be for you, but it will be a journey. Luisa Zissman is a TV personality in Britain. I won't pretend I know her, but I just read her Wiki page. She sounds like she had some business acumen that she inflated and translated into reality TV success, which now gets her airtime on shows like Loose Women and Good Morning Britain. She's also an unapologetic racist so the few things I was going to give her credit for I've suddenly forgotten.
Anyway, Luisa is a big horse person. Wiki said she got her first job at 16 to pay for the upkeep for the horse that her parents got her. In December 2019, Luisa had to put the horse she'd had for six years, Madrono, down due to cancer. She was heartbroken and continued to post videos and photos of him for months after he'd passed. Well, Luisa went in a very different direction to memorialize her beloved horse: she had him stuffed and mounted. She sought the services of famed taxidermist Simon Wilson to have her faithful companion preserved for eternity. She posted the unveiling to her Instagram:
View this post on Instagram
A post shared by Luisa Collins (Zissman) (@luisazissman)
Luisa's caption to this video read:
The day we were reunited ❤️😢⭐️
I know I'm weird, I know this isn't normal but when Madrono had to be PTS due to melanomas (cancer) I was shattered. I had seen @simon_the_stuffa amazing work and he was the first person I called.
I can't describe the overwhelming heartbreak when Madrono died I spent a week in bed and got stress induced vertigo 🙈 (pathetic I know)
Seeing him again today was so incredible. He's perfect, his kind eyes are exactly the same, the little swirls in his coat, his beautiful mane all so perfect. Thank you @simon_the_stuffa and your team. You really have made me so happy! (Even though I'm ugly crying)
And for those who listen to @annawilliamsonofficial and I LuAnna : The Podcast, you will be relieved to hear his balls are still intact.
Madrono will take pride of place in the entrance hall of my new house. ❤️❤️❤️
#madrono #horsetaxidermy#stuffedhorse
Can we first address the Ferrari cover used to cover the poor horse? Was that necessary? Maybe Simon the Stuffa could commission some custom reveal cloths if this is going to become a thing. Since I own a book called Crap Taxidermy, I consider myself something of a taxidermy expert (I'm kidding – about being an expert, not the book. I actually do own that). This looks like good work to me. Could you imagine if you pay all that money and it comes out looking like this? Speaking of money, do we even want to guess how much this cost? Simon works with films and museums so …read more
Source:: Cele|bitchy
(Visited 1 times, 1 visits today)
News