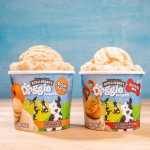 View this post on Instagram
A post shared by Pontch Barker (@pontchthefrenchie)
It was announced Monday that frozen treat gurus Ben & Jerry's are expanding their empire to include dogs. That's right, starting next week, the tiny tubs for Fido will hit the company's website. Stores should have them on the shelves by the end of the month. Just think, your pup will never have to suffer another breakup without an assist from ice cream again! No more choking down dry cake minus the creamy frozen side on their birthday. And gone are the summer days that they had to lounge by the pool with a stupid water bowl full of ice cubes while the humans sucked on pudding pops – this is the pups year, I tell you.
If your furry friend gives you the puppy dog eyes when you dig into a bowl of ice cream, Ben & Jerry's has a solution.
The ice cream maker is debuting Doggie Desserts, which will hit its website on Monday and the shelves of grocery and pet stores this month. The line kicks off with two flavors named after its employees' pets: Pontch's Mix, which is peanut butter with a pretzel swirl, and Rosie's Batch, a mix of pumpkin and mini cookies.
The treats are made of ingredients already used in the company's ice creams, but with a sunflower butter base instead of dairy to be gentler on dogs' stomachs. They will sell individually as 4-ounce mini cups or in four-packs for a suggested price of $2.99 and $4.99.
"People are at home and they're looking for some sort of additional comfort and ice cream, specifically Ben & Jerry's, is one of those go-to comfort foods," said Lindsay Bumps, a Ben & Jerry's global marketing specialist. And, she noted, they are spoiling their dogs, too.
Ben & Jerry's employees were inspired by their own beloved pets, Bumps said. The company's headquarters in Vermont is dog-friendly. Before the pandemic, about 40 dogs would spend their days at the office and curl up under desks. The four-legged coworkers were a ready-made focus group, she said.
[From CNBC]
Is this a good idea? Hells yes, dog owners are a marketer's dream. B&J's have already come up with an accompanying line of ice cream themed dog toys to go with it. Most dog owners know this isn't the first frozen dog treat out there. Purina puts out Frosty Paws. And there's a whole line of Pooch Cakes and Pooch Creamery available. But this is Ben & Jerry's, just think of the size of the checkbooks that got opened when this announcement came out. I absolutely love that these flavors are inspired and named after actual B& family dogs, who are adorable (that's Pontch in the header pic, by the way). It just means we're going to get a new B&J dog for each flavor, these will be the best campaign rollouts ever. I wonder if their stores will carry these in addition to …read more
Source:: Cele|bitchy
(Visited 3 times, 1 visits today)
News