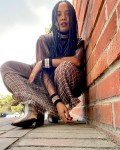 View this post on Instagram
A post shared by Tessa Thompson (@tessamaethompson)
Tessa Thompson was on Jimmy Kimmel Live to promote Sylvie's Love on Amazon, which is an absolute gem of a movie. It's been a long time since I've seen a film that delightful, and my friends who watched it with me over Zoom loved it too. Some people found it a little slow, but it has that older movie throwback feel in that the pacing is measured and you get to know the characters. I have a lot of affection for Tessa after seeing her sublime performance alongside Nnamdi Asomugha (Kerry Washington's husband!). Tessa has been mesmerizing on screen ever since I first saw her in Creed though she she doesn't get enough attention. Tessa is co-starring in Thor: Love and Thunder where she plays Valkyrie. (She was awesome in Ragnarock too!) She told Jimmy that she was about to fly to Australia, where they're currently filming. She has to quarantine in a government-run facility for two weeks and they won't give her special celebrity treatment either. After that she gets to move around and go out like the beforetimes. Jimmy interviewed Tessa's costar Natalie Portman a few weeks ago and Natalie said things are pretty much back to normal there. We've also heard from Kate Walsh, who is living and working in Western Australia, that it's ideal there thanks to early lockdown and everyone adhering to restrictions. I didn't realize Australia had their own quarantine facilities and I wanted to talk about it. Here's some of what she told Jimmy and that interview is below.
She got in a car accident driving to a cabin on New Year's
I have been staying in although for New Years eve… I drove up a mountain to go to a cabin. I thought 'this will be totally safe because I won't see anybody,' but I got into a car accident. I did have a socially distant interaction. I got hit by a big monster truck on the highway. I'm safe and actually the driver was very lovely.
She's about to leave for Australia
I leave to Australia in a couple days. It feels like an alternate universe I've almost forgotten what those things are like. You get escorted by police to a quarantine facility and stay there for 14 days while you're monitored. Once you're out it's sort of things back as somewhat normal. [The quarantine facilities] are all government run. You don't get any [special] treatment just because you happen to be in movies, you just go to a government place and you hang out. I think the only thing that I get because it's Marvel is that they're going to send me a piece of workout equipment because I have to be in a superhero costume. Otherwise I'm just going to be hanging out. I don't know what the place is like. I'm grateful. It feels a little like survivor's remorse.
On the …read more
Source:: Cele|bitchy
(Visited 1 times, 1 visits today)
News