Blue Jays win over Twins showcases both sides of team in transition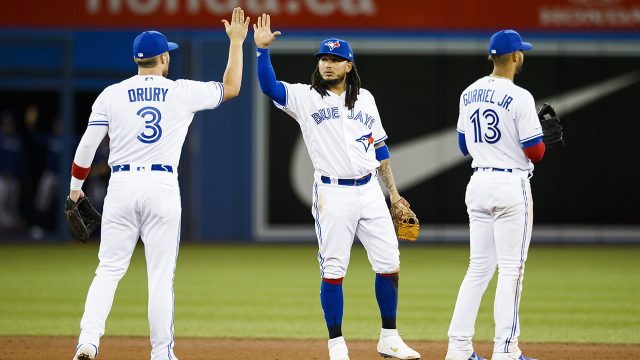 MINNEAPOLIS – With one out in the sixth inning Monday, the Blue Jays had a chance to rally. Teoscar Hernandez had just singled, and Brandon Drury had worked his way into a hitters' count.
Well, he thought so anyways. In fact, the count was 2-2. Believing that he had just taken ball four, Drury tossed his bat away and starting trotting toward first base. With Drury approaching, Hernandez set off for second. But of course no walk had been issued, so when catcher Mitch Garver threw to first base, the Twins had an easy out.
Technically it goes down as a caught stealing. Watching from the Blue Jays' third base dugout, Charlie Montoyo looked like someone ready to describe it in far more colourful language.
Whether you blame Drury, Hernandez or both, that sequence shouldn't happen on a major-league field. Though the Blue Jays eventually won 5-3 thanks in part to Hernandez's bat, that exasperating sequence of events was emblematic of a team in transition.
Stream the Toronto Blue Jays with Sportsnet NOW
Livestream the Toronto Blue Jays on the most popular devices. Plus, get over 150 marquee MLB matchups, the Home Run Derby, All-Star Game and Postseason.
CHOOSE PLAN
To be fair, Hernandez later crushed a three-run homer to give the Blue Jays the lead. With two runners on and the Blue Jays trailing 3-2 in the eighth, Hernandez hit a no-doubter that gave the Blue Jays the lead.
That late offence was welcomed on a day the Blue Jays had trouble generating anything against starter Martin Perez. Their lone run against the left-hander came in the fourth inning when Alen Hanson drove Justin Smoak home with a sacrifice fly. Otherwise, Toronto's bats stayed quiet until Hernandez's homer capped a four-run eighth.
The Blue Jays stayed in the game long enough …read more
Source:: Sportsnet.ca
(Visited 1 times, 1 visits today)