Maple Leafs' Nazem Kadri suspended for remainder of first round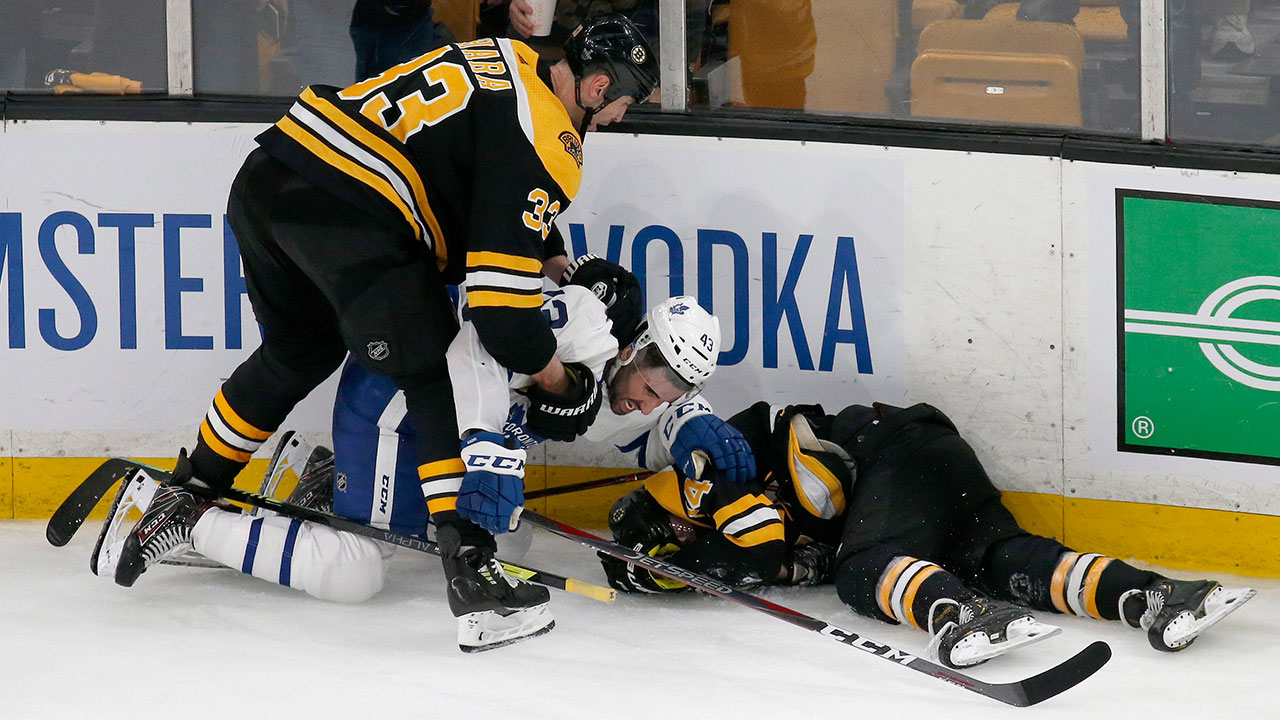 TORONTO – If the Toronto Maple Leafs are to advance past the Boston Bruins, they'll have to do so without Nazem Kadri.
Toronto's third-line centre was suspended for the remainder of the first round by the NHL's department of player safety Monday evening for delivering a dangerous cross-check to the head of Bruins forward Jake DeBrusk.
Toronto's Nazem Kadri has been suspended for the remainder of the First Round for Cross-checking Boston's Jake DeBrusk. https://t.co/doqkyMVrLS
— NHL Player Safety (@NHLPlayerSafety) April 15, 2019
Kadri was also assessed a five-minute major penalty and a game misconduct for his actions in Saturday's 4-1 Game 2 loss in Boson.
DeBrusk left the game and said he underwent "a couple tests" but will play Monday.
Kadri's status as a repeat offender factored into the length of the suspension, which removes Kadri for the duration of Round 1 and was determined after a lengthy hearing in New York. Leafs president Brendan Shanahan was present.
"Obviously, any time you put yourself in a situation where someone else gets to decide your future, it's probably not a good thing in anything you do in life," head coach Mike Babcock said Monday.
"Naz is a good player and an important guy on our team. It's just [like] he's injured — move on."
William Nylander will assume Kadri's position in the middle of the third line, between Connor Brown and Patrick Marleau.
"He's got to play hard," Babcock said of Nylander. "It's real simple, the team that played the hardest won Game 1, and the team that played the hardest won Game 2."
Kadri's cross-check was in retaliation for a DeBrusk knee-on-knee hit that had gone unpenalized earlier in the game, as well as a borderline check of Marleau near the benches.
He was also suspended …read more
Source:: Sportsnet.ca
(Visited 1 times, 1 visits today)