Golden Knights' Ryan Reaves chirps Sharks 'grandpa' Joe Thornton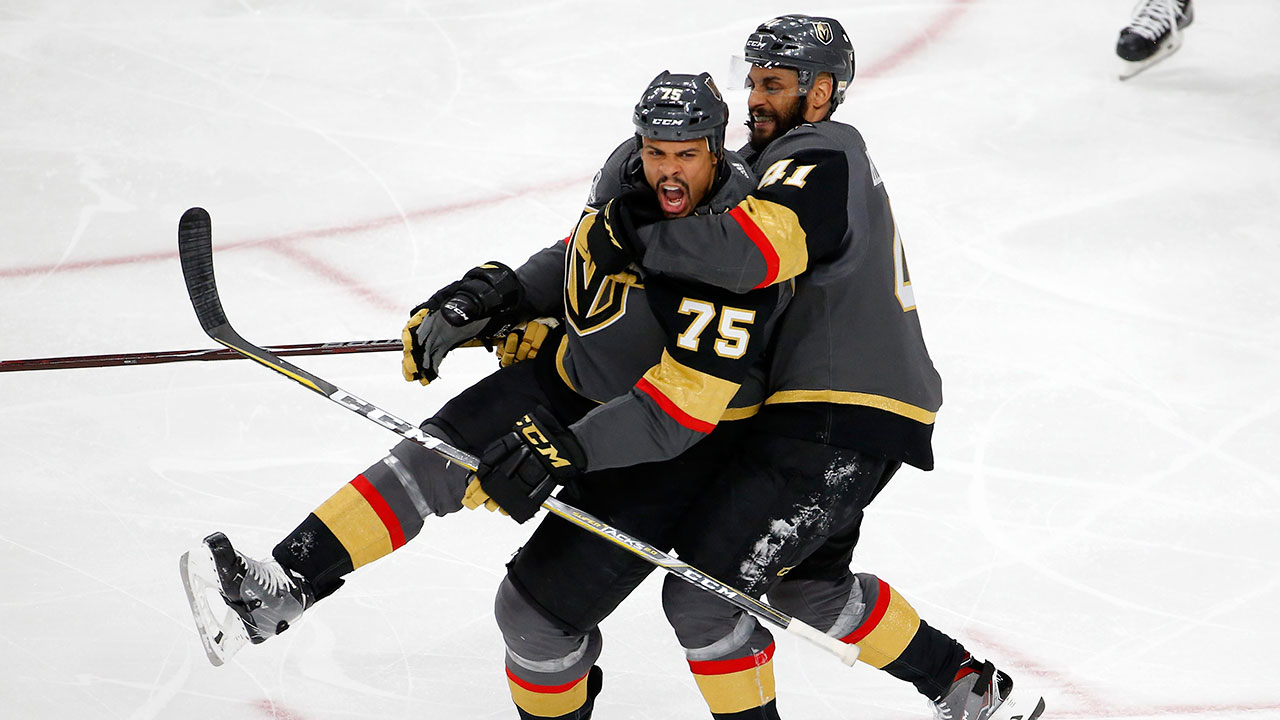 Not all great sports rivalries are rooted in rich history.
In fact, we're seeing one blossom before our very eyes this spring as the San Jose Sharks and Vegas Golden Knights go head-to-head in the Stanley Cup Playoffs for the second consecutive spring.
So far, the clash of these Western Conference heavyweights has featured all the ingredients of an excellent NHL rivalry: lots of goals, plenty of contact, fists flying and, thanks to Sharks veteran Joe Thornton and Golden Knights tough guy Ryan Reaves, some top-notch trash talk.
Thornton set the tone when he delivered a high hit on Vegas' Tomas Nosek in Game 3 and then backed up his actions with quite the statement:
"Honestly, I thought I barely touched him. He came right back. It's just one of those plays," Thornton said after the game, a 6-3 Vegas win to take a 2-1 series lead. "I think my son hits me like that six times a day, it's just a weird position he put himself in. That's all."
/*
if ( "1" == true && 'undefined' !== typeof window.getIndexAds ) {
var so = {preroll:{1:{1:{siteID:191888},2:{siteID:191889}}}};
adServerUrl = window.getIndexAds( 'http://pubads.g.doubleclick.net/gampad/ads?sz=640×360&cust_params=domain%3Dsportsnet.ca&iu=%2F7326%2Fen.sportsnet.web%2FVideo&ciu_szs=300×250&impl=s&gdfp_req=1&env=vp&output=vast&unviewed_position_start=1&ad_rule=1&vid=6026199486001&cmsid=384', so, permalink);
} else {
adServerUrl = "http://pubads.g.doubleclick.net/gampad/ads?sz=640×360&cust_params=domain%3Dsportsnet.ca&iu=%2F7326%2Fen.sportsnet.web%2FVideo&ciu_szs=300×250&impl=s&gdfp_req=1&env=vp&output=vast&unviewed_position_start=1&ad_rule=1&vid=6026199486001&cmsid=384";
}
*/
adServerUrl = "http://pubads.g.doubleclick.net/gampad/ads?sz=640×360&cust_params=domain%3Dsportsnet.ca&iu=%2F7326%2Fen.sportsnet.web%2FVideo&ciu_szs=300×250&impl=s&gdfp_req=1&env=vp&output=vast&unviewed_position_start=1&ad_rule=1&vid=6026199486001&cmsid=384";
Source:: Sportsnet.ca
(Visited 1 times, 1 visits today)