Maple Leafs rally from three-goal deficit to edge Flyers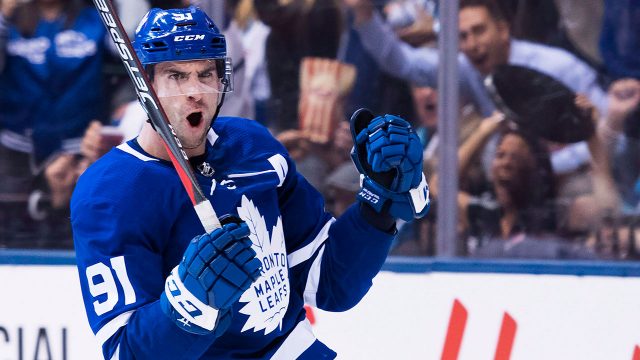 TORONTO — Auston Matthews scored with five minutes left in the third period as the Toronto Maple Leafs rallied from a three-goal deficit to defeat the Philadelphia Flyers 7-6 on Friday night.
A one-handed pass from William Nylander in front found the the Leafs centre, who buried his 33rd goal of the season to snap a 5-5 tie inside a raucous Scotiabank Arena.
Matthews added his 34th — matching his jersey number — with 2:39 to go on a rebound off the rush.
Former Leaf James van Riemsdyk scored his third of the game with on a tip with 1:14 left, but Toronto held on for the win.
Jake Muzzin, with two goals and an assist, Patrick Marleau, Zach Hyman and Martin Marincin also scored for Toronto (43-23-5), which snapped a two-game losing streak and crept within two points of the Boston Bruins for second in the Atlantic Division.
Stream Maple Leafs hockey on Sportsnet NOW
Sportsnet NOW gives you access to over 500 NHL games this season, blackout-free, including Hockey Night in Canada, Rogers Hometown Hockey, Scotiabank Wednesday Night Hockey, the entire 2019 Stanley Cup Playoffs and more.
CHOOSE PLAN
A shaky Frederik Andersen made 23 saves for the Leafs, who were wearing their throwback green and white Toronto St. Patricks jerseys. Nylander, Nazem Kadri and Ron Hainsey each added two assists.
Toronto visits the last-place Ottawa Senators on Saturday night in the second game of a back-to-back.
Shayne Gostibehere and Radko Gudas, with a goal and an assist each and Jakub Voracek provided the rest of the …read more
Source:: Sportsnet.ca
(Visited 1 times, 1 visits today)