Maple Leafs' offence overshadows another shaky Andersen performance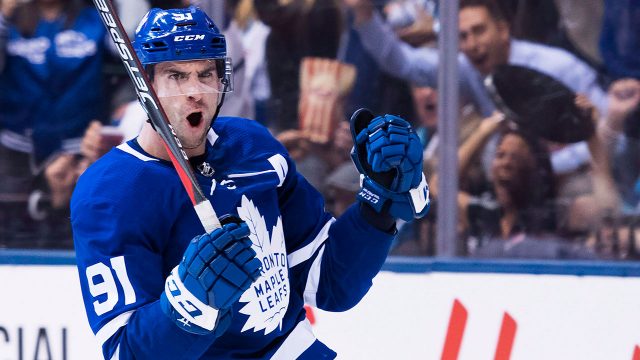 TORONTO — Auston Matthews capped a three-goal comeback on Friday as the Toronto Maple Leafs survived another scrambly start from goaltender Frederik Andersen.
The go-ahead goal from Matthews came at 15:00 of the third period after line-mate William Nylander made a phenomenal pass out from behind the net with one hand on his stick. Matthews scored again 2:21 later for the eventual winner after James van Riemsdyk completed a hat trick with a 6-on-5 goal.
The Leafs pulled out a wild 7-6 victory over the Philadelphia Flyers.
Stream Maple Leafs hockey on Sportsnet NOW
Sportsnet NOW gives you access to over 500 NHL games this season, blackout-free, including Hockey Night in Canada, Rogers Hometown Hockey, Scotiabank Wednesday Night Hockey, the entire 2019 Stanley Cup Playoffs and more.
CHOOSE PLAN
Andersen entered the night having been pulled in consecutive games for the first time in his NHL career, but hung in there long enough to see his teammates overwhelm an opponent playing for the second consecutive night.
Toronto passed the 50-shot mark for the second time this season and erased a 5-2 deficit.
Jakub Voracek's opening goal came against the run of play after a lost faceoff by Matthews in the defensive zone. That's been a recurring trend of late for Toronto and Voracek had the puck on a tee when he hammered a shot past Andersen at 12:22.
A tip from Patrick Marleau on the power play brought the Leafs back to 1-1 and Matthews appeared to put them ahead soon after — only to have the goal brought back on video replay because Flyers goalie Brian Elliott had dislodged the left post before Matthews batted in …read more
Source:: Sportsnet.ca
(Visited 1 times, 1 visits today)