Flames' depth about to be tested with Monahan sidelined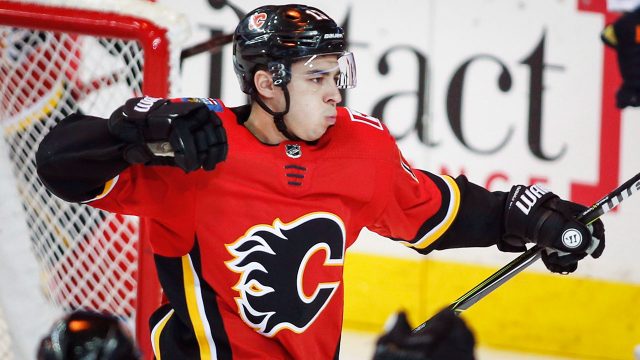 CALGARY – The Calgary Flames' depth is about to be tested.
So are Bill Peters' juggling skills.
On a night in which Matthew Tkachuk spearheaded the offence with a remarkable five-point binge, Sean Monahan dominated the chatter with an injury that opened a significant hole in the lineup.
The Flames' top centre left Friday's win over the Rangers after playing nine minutes in the first period.
It wasn't preceded by a hellacious hit or an obvious tweak, he simply didn't return for the second period.
Bill Peters said after the game Monahan suffered from an illness similar to the one ailing Mike Smith this week, and confirmed his top centre won't be travelling to Winnipeg after the game for a Saturday night tilt with the Jets.
The early night comes three days after Monahan was asked to leave the game by an NHL concussion spotter following a heavy hit by New Jersey's Blake Coleman. The Flames' first-line centre returned to that game and practised with the club Thursday. He even spoke to the media, but one has to wonder if complications from the hit contributed to the illness.
The absence of their 31-goal scorer thrusts Derek Ryan into a spotlight that will likely see him anchor the top trio.
Ryan filled Monahan's spot for the duration of Friday's game and certainly has the trust of Peters, whom the 32-year-old centre played for for three years in Carolina before he joined the coach in Calgary as a depth free agent last summer.
Peters will now have to decide if the pivot they call "Doc" can act as a viable Band-Aid between Johnny Gaudreau and Elias Lindholm on a top line that had 14 points a game earlier.
Moving Lindholm to the middle and putting Tkachuk up with the big lads may …read more
Source:: Sportsnet.ca
(Visited 1 times, 1 visits today)