'Pissed off' McDavid ready for 'special' Toronto homecoming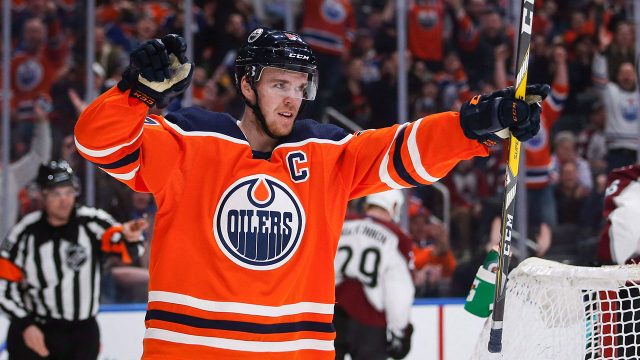 TORONTO — Back in the day, it was as safe a bet as you could make.
Wayne Gretzky used to roll into old Maple Leaf Gardens on Hockey Night in Canada, and with Walter, Phyllis and family in the stands, he'd absolutely take the Leafs apart on a Saturday night.
"Like McDavid's going to do tonight?" Ken Hitchcock asks. "Same thing."
Connor McDavid returns tonight from a two-game suspension that was levied for a hit to the head of New York Islanders defenceman Nick Leddy, and even the Toronto Maple Leafs are pretty sure they're going to get his best game.
"He's missed the last couple games," said Leafs centre John Tavares. "We expect him to be shot out of a cannon."
/*
if ( "1" == true && 'undefined' !== typeof window.getIndexAds ) {
var so = {preroll:{1:{1:{siteID:191888},2:{siteID:191889}}}};
adServerUrl = window.getIndexAds( 'http://pubads.g.doubleclick.net/gampad/ads?sz=640×360&cust_params=domain%3Dsportsnet.ca&iu=%2F7326%2Fen.sportsnet.web%2FVideo&ciu_szs=300×250&impl=s&gdfp_req=1&env=vp&output=vast&unviewed_position_start=1&ad_rule=1&vid=6007464217001&cmsid=384', so, permalink);
} else {
adServerUrl = "http://pubads.g.doubleclick.net/gampad/ads?sz=640×360&cust_params=domain%3Dsportsnet.ca&iu=%2F7326%2Fen.sportsnet.web%2FVideo&ciu_szs=300×250&impl=s&gdfp_req=1&env=vp&output=vast&unviewed_position_start=1&ad_rule=1&vid=6007464217001&cmsid=384";
}
*/
adServerUrl = "http://pubads.g.doubleclick.net/gampad/ads?sz=640×360&cust_params=domain%3Dsportsnet.ca&iu=%2F7326%2Fen.sportsnet.web%2FVideo&ciu_szs=300×250&impl=s&gdfp_req=1&env=vp&output=vast&unviewed_position_start=1&ad_rule=1&vid=6007464217001&cmsid=384";
$el.after( unescape("%3Cscript src="" + (document.location.protocol == "https:" ? "https://sb" : "http://b") + ".scorecardresearch.com/beacon.js" %3E%3C/script%3E") );
$( document ).one( 'ready', function() {
$( "#video_container-596326" ).SNPlayer( {
…read more
Source:: Sportsnet.ca
(Visited 1 times, 1 visits today)