Canucks fail to protect Michael DiPietro in premature debut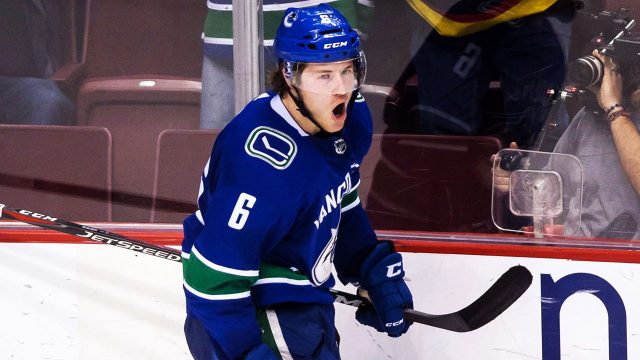 VANCOUVER – The Vancouver Canucks set up Michael DiPietro to fail, and on Monday night, in a premature National Hockey League debut, he did.
The 19-year-old goaltending prospect, an emergency callup from the Ontario Hockey League last week, was forced into an NHL start when Canucks goalie Jacob Markstrom reported to work Monday morning experiencing tightness in his lower body.
The idea when backup goalie Thatcher Demko sprained his knee during the pre-game warmup in Philadelphia last Monday was that the Canucks could bring in DiPietro and the 2017 third-round draft pick would gather invaluable experience and intel practising with NHL players and working with Canucks goaltending coach Ian Clark while Markstrom played.
And during the two weeks or so Demko would miss, Canucks general manager Jim Benning and his staff would continue to search for an inexpensive, suitable "third goalie" to bring into the organization for depth. They never found one in time.
DiPietro lost his first NHL start 7-2 to the San Jose Sharks.
Stream Canucks hockey on Sportsnet NOW
Sportsnet NOW gives you access to over 500 NHL games this season, blackout-free, including Hockey Night in Canada, Rogers Hometown Hockey, Scotiabank Wednesday Night Hockey, the entire 2019 Stanley Cup Playoffs and more.
CHOOSE PLAN
The Canucks' veteran minor-league goalie, Richard Bachmann, suffered a season-ending Achilles injury with the Utica Comets on Dec. 21. And the organization's plan to replace him went awry on Jan. 4 when Mike McKenna was claimed on waivers by the Philadelphia Flyers, a couple of days after the Canucks acquired him from the Ottawa Senators in exchange for NHL backup Anders Nilsson. Nilsson was moved in order to make room in the NHL for Demko.
In …read more
Source:: Sportsnet.ca
(Visited 1 times, 1 visits today)