Nadal edges del Potro in 5-set Wimbledon thriller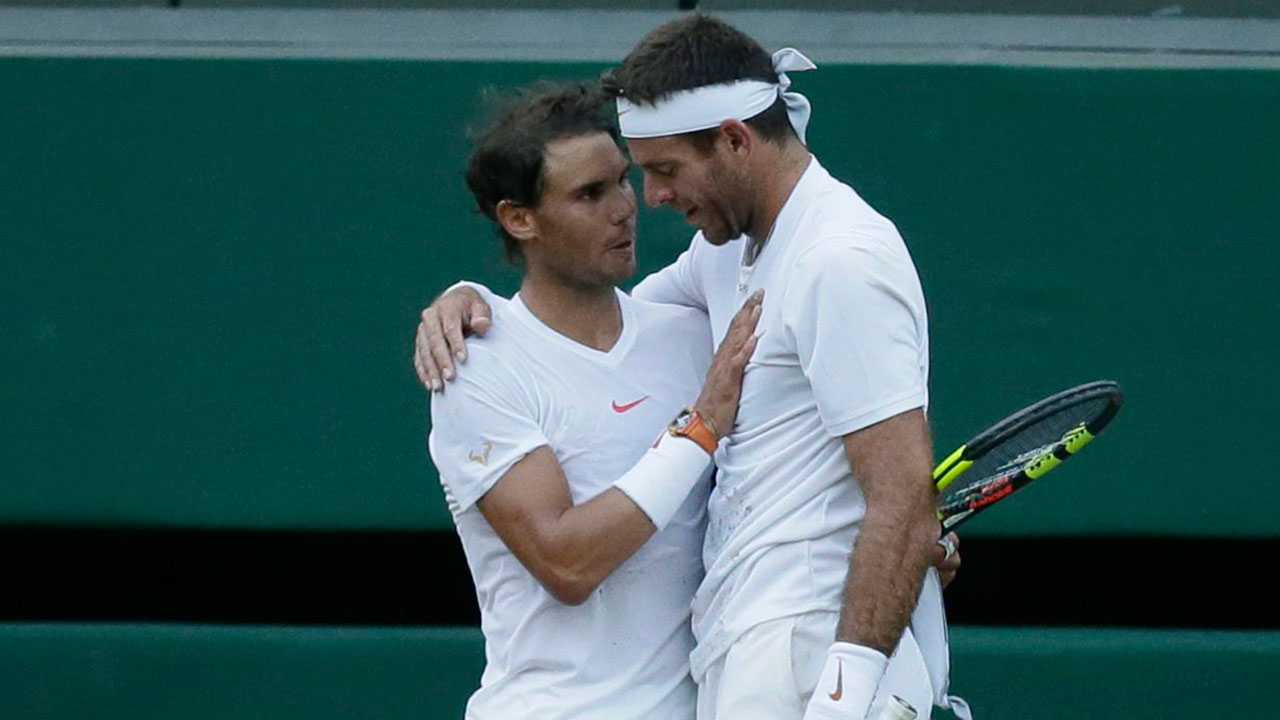 LONDON — When the 4 hours, 48 minutes of diving across the grass and leaping into the stands, of slipping and sliding, of so many moments of great tension — and, above all, great tennis — were done, when Rafael Nadal had sealed his Wimbledon quarterfinal victory, the man he edged, Juan Martin del Potro, was face-down at a Centre Court baseline.
"I wanted to stay there," del Potro said afterward, "all night long."
He did hold that pose, a mixture of full-on despair and utter exhaustion, for a bit, which felt appropriate. So, too, did what happened next after Nadal won 7-5, 6-7 (7), 4-6, 6-4, 6-4 Wednesday and earned a trip to the semifinals at the All England Club for the first time in 11 years: He went over to give del Potro a lengthy hug.
Then they walked to the sideline together, arms draped across each other's shoulders.
"Emotional match for both of us," said Nadal, who is ranked No. 1 and seeded No. 2 and won two of his 17 major championships at Wimbledon. "And for the fans, too."
Now Nadal will face longtime rival Novak Djokovic in the semifinals Friday. It will be their 52nd career meeting; Djokovic leads 26-25. Djokovic, a 12-time major champ whose resume includes three trophies at the All England Club, advanced earlier Wednesday with a four-set victory over Kei Nishikori that didn't require nearly as much energy or effort as what followed on Centre Court.
And Nadal rued failing to take control against del Potro much earlier.
Nadal could have gone up two sets to none after leading 6-3 in the tiebreaker. But he blew those three set points, …read more
Source:: Sportsnet.ca
(Visited 1 times, 1 visits today)