Horrific incident for Canadiens' Danault 'takes air out of' game vs. Bruins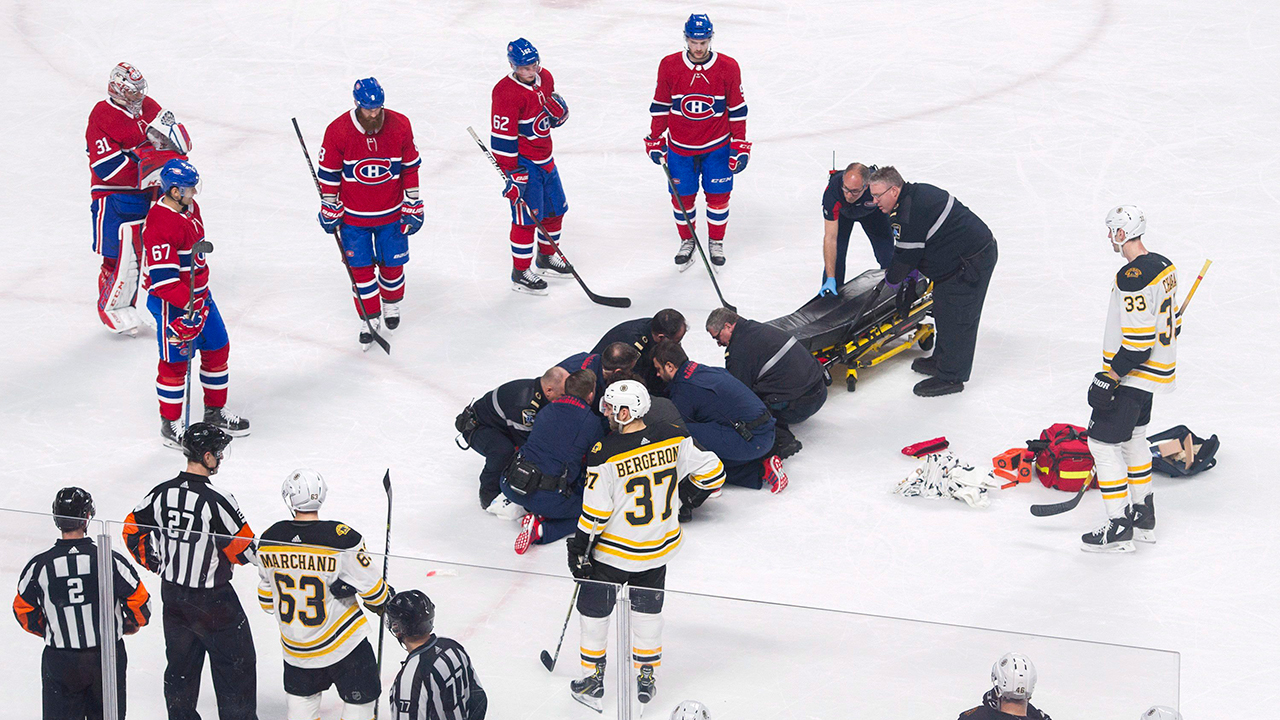 MONTREAL — What do you do when the man with the NHL's hardest shot winds up for a one-timer and you're standing helplessly in its path, just 10 feet away? You brace yourself and hope for the best.
That's what Montreal Canadiens forward Phillip Danault did with just 1:37 remaining in the second period of what turned out to be a 4-3 shootout loss to the Boston Bruins on Saturday. Unfortunately, he got the worst.
Bruins forward Jake DeBrusk, who scored on a breakaway 2:55 into the second frame, crossed the Montreal blue line at full speed near the end of the period, dropped the puck to Zdeno Chara, and the 6-foot-9, 255-pound behemoth ripped a rising shot that caught Danault right in the head.
if ( "1" == true && 'undefined' !== typeof window.getIndexAds ) {
var so = {preroll:{1:{1:{siteID:191888},2:{siteID:191889}}}};
adServerUrl = window.getIndexAds( 'http://pubads.g.doubleclick.net/gampad/ads?sz=640×360&iu=%2F7326%2Fen.sportsnet.web%2FVideo&ciu_szs=300×250&impl=s&gdfp_req=1&env=vp&output=vast&unviewed_position_start=1&ad_rule=1&vid=5710013497001&cmsid=384', so, permalink);
} else {
adServerUrl = "http://pubads.g.doubleclick.net/gampad/ads?sz=640×360&iu=%2F7326%2Fen.sportsnet.web%2FVideo&ciu_szs=300×250&impl=s&gdfp_req=1&env=vp&output=vast&unviewed_position_start=1&ad_rule=1&vid=5710013497001&cmsid=384";
}
$el.after( unescape("%3Cscript src="" + (document.location.protocol == "https:" ? "https://sb" : "http://b") + ".scorecardresearch.com/beacon.js" %3E%3C/script%3E") );
$( document ).one( 'ready', function() {
$( "#video_container-481696" ).SNPlayer( {
bc_account_id: "1704050871",
…read more
Source:: Sportsnet.ca
(Visited 3 times, 1 visits today)