Sabres beat Blue Jackets to snap five-game losing streak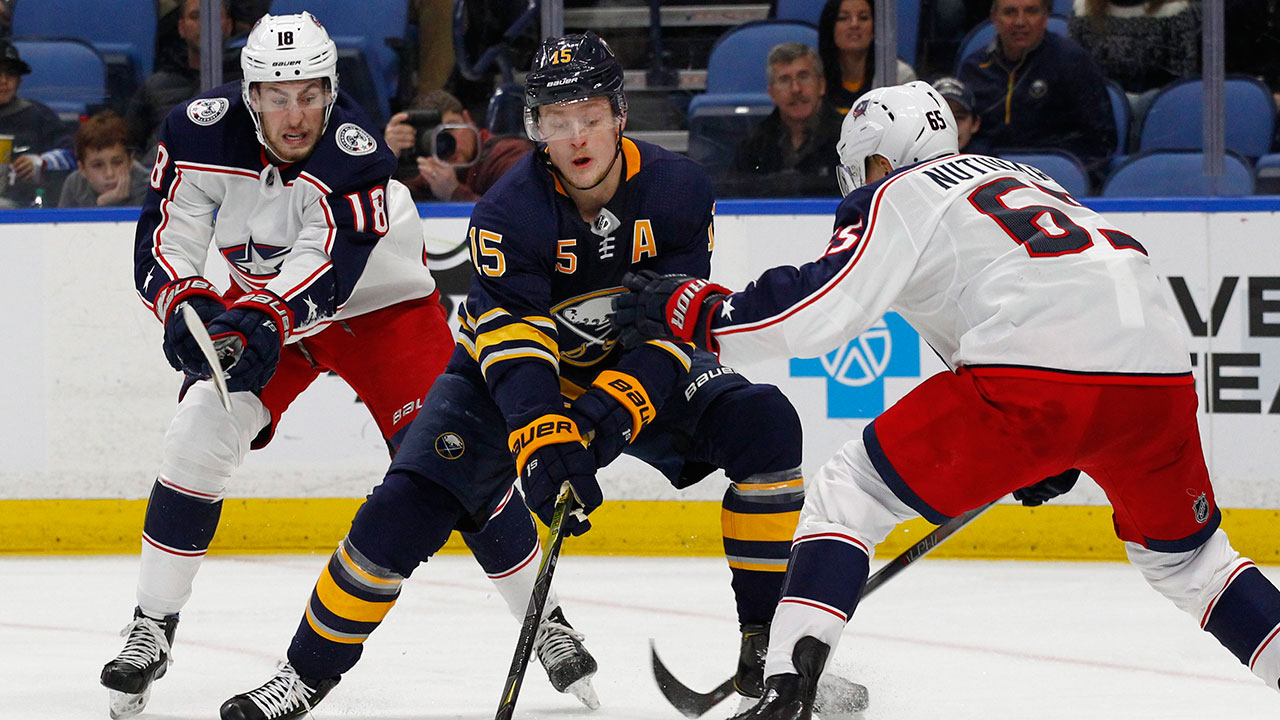 BUFFALO, N.Y. — Kyle Okposo had a goal and assist, and the Buffalo Sabres snapped a five-game skid with a 3-1 win over the Columbus Blue Jackets on Thursday night.
Benoit Pouliot and Jack Eichel, with an empty-netter with 6 seconds left, also scored. Linus Ullmark stopped 44 shots in his first NHL game of the season.
Ullmark stopped the first 39 shots he faced before having his shutout bid foiled on Artemi Panarin's power-play goal with 6:15 remaining.
The Sabres ended an 0-4-1 skid and won in regulation for the first time in nine games. Buffalo's last victory was a 4-2 win over Philadelphia on Dec. 22.
The Blue Jackets had a two-game win streak snapped and failed to complete their sweep of a three-game season series against Buffalo. Sergei Bobrovsky stopped 26 shots, but had little chance in stopping either of the two goals he allowed.
A fortunate bounce led to Okposo putting the Sabres up 2-0 with 12:42 left in the third period on an innocent-looking play that began with Buffalo forward Evander Kane dumping the puck up the right boards from the neutral zone.
Bobrovsky circled the net to await the puck, with Blue Jackets defenceman Seth Jones skating toward the goalie. The puck, however, hit a crease in the boards at the Zamboni entrance and caromed back toward the net, where Okposo swept it in from a bad angle, and just before Bobrovsky could scramble back into position.
The Blue Jackets cut the lead on Panarin's goal with 6:15 left, and with Buffalo's Evan Rodrigues serving a tripping penalty. Panarin was allowed to skate toward the …read more
Source:: Sportsnet.ca
(Visited 1 times, 1 visits today)